Hey everyone!
Not sure what Blythe is ? Then this is where you can read about Blythe ! :D
Blythe Dolls were first created in 1972, by a toy company, "Kenner". They were sadly only sold for one year, because their eyes, and oversized head scared children. In 1997, Gina Garan, a New York TV and video producer, was given a Kenner Blythe Doll as a gift. She started to take her Blythe Doll wherever she went, and took many photos of her to practice her photography skills.
In 1999, she was introduced to Junko Wong of CWC by an artist and illustrator which brought the attention of Parco, and other toy companies. In about 2000, Gina Garan published a book with Blythe photography. In 2001, Hasbro (the current trademark of Blythe and license owner) gave Takara a license which made Takara capable to manufacture the New Edition of Blythe (AKA NEO). Blythe was used in television advertising, campained by Parco in Japan and instantly became a big hit.
Here are the different kinds of Blythe dollies ...
NEO Blythe
Neo (New Edition of Blythe) is 28cm tall and has the ability to change it's eye colour! It has a pull cord at the back of its head, and when pulled, its eyes change. There are 2 eyes that face forward, one to the right, and one to the left. There are 5 different Blythe face molds which are each a bit different from one another, they are BL (the earliest used face mold), EBL - Excellent Blythe, SBL - Superior Blythe, RBL - Radiant Blythe and FBL - Fairest Blythe. They also come in different skin tones.
Middie Blythe
A Middie Blythe is 20cm tall, and is able to tilt its head as well as move its eyes. It is very similar to a NEO, just smaller, and unable to change its eye colour. Sometimes, there are some Middies that are like little sisters, to previous NEO Blythe dollies or vice-versa. One of the recent ones are,
Zinochika
and
Lena Elena
.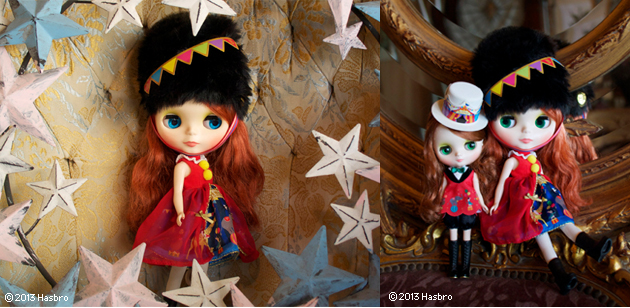 (http://www.blythedoll.com/en/news/20130821_zenochka/)
Petite Blythe
Petite Blythe is 11cm tall. They are much more smaller than NEO and Middie. They are sometimes known as the littlest sister of them all :P The newer releases have sleepy eyes, and bendable legs.
Kenner Blythe
They were first manufactured in the 1972, and are vintage. They are highly expensive, and are a bit rare. You would be considered as lucky to find one that is in good condition and for a good price!! They go up to $1000+ .
Blythe Dolls can be customized in so many ways !! We will post about some customizing tutorials on the internet on this blog some day soon :)
You can buy Blythe from so many different places! Have a look at
this
post, for a Blythe Doll Buying Guide, written by the lovely Emily Wind :)
I hope that was not
too
long and informative :)
If you have any other questions, please feel free to comment a question in the comments, and we'll try our utmost best to answer it!!
Have a most wonderful filled day !!
TBS Team xoxo
References -::
- http://www.blythedoll.com/en/whats/#whats
- http://www.blythedoll.com/en/whats/#history
- http://en.wikipedia.org/wiki/Blythe_%28doll%29